Laurie Bend Outreach Director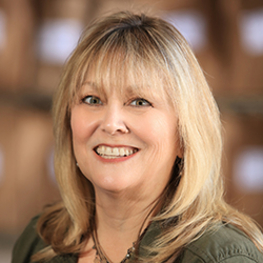 Laurie Bend joined Meals on Wheels of the Salinas Valley in July 2016 as a volunteer member of the Fundraising Committee. An opportunity arose for her in November 2016 to join the staff of MOWSV. With the skills that Laurie brought to the organization, she was promoted to Outreach Director. Laurie has been tasked with assisting the staff with day-to-day operations, helping with volunteer recruitment and activities, connecting regularly with donors, fundraising for MOWSV programs and promoting MOWSV throughout the community.
In addition to her work with MOWSV, Laurie is a small business owner. She is the owner and senior designer for pageonedesign - a full-service graphic design studio based on the Monterey Peninsula, with over 30 years of design and printing experience. Laurie is a graduate of San Jose State University, earning her BS in Graphic Design.
Laurie is a dedicated volunteer as well. Currently, she serves as 2022 Board Chair for the Arts Council for Monterey County. During her 15 year membership with the Professional Women's Network of the Monterey Peninsula (PWN), Laurie has held many positions on their volunteer board of directors. She was elected president of the organization in 2013 and was awarded PWN's "Woman of the Year" in 2015. Laurie is a 2015 graduate of Leadership Monterey Peninsula. She also served as Service Unit Manager for SU 356 for Girl Scouts of California's Central Coast from 2013 - 2016 and volunteered for over 15 years with Girl Scouts.
In her free time, Laurie spends as much time as possible with her family. She enjoys hiking at the coast with her dogs, Harley and Maui, participating in 5k races throughout the community, and supporting the activities of her 4 grown children and 3 grandsons.