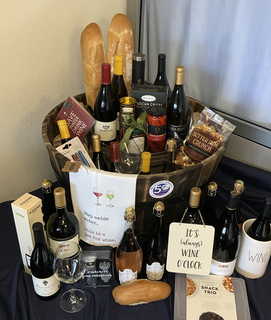 Event Date:
Mar 31 - May 26, 2022
8:00 AM to 8:00 AM
Ticket: $0
Event Info
Ticket sales begin March 31 thru May 26, 2022!
Meals on Wheels of the Salinas Valley Annual "Wine Lovers" Drawing for a chance to win a 1/2 wine barrel filled with three magnums of wine from Bernardus; 6 bottles of Sparkling wine from Folktale; 6 bottles from Morgan Winery; and 6 bottles from Pessagno/Puma Road; certificates for wine tasting from: Folktale - tasting for 2; McIntyre Vineyard - Flights & Bites for 4; Hahn Winery - Tasting Flights for 4; and A Taste of Monterey - Ocean View Wine Flights for 4 with Artisan Cheeses platter; wine glasses; Lula's specialty chocolates; wine snacks and crackers; wine-themed items and many wine accoutrements. Could you be the lucky winner?
The winning ticket will be drawn LIVE on Facebook - Thursday, May 26, 2022 at 3pm. Need not be present to win.
Buy Tickets