Your Monthly Donation Makes a Difference!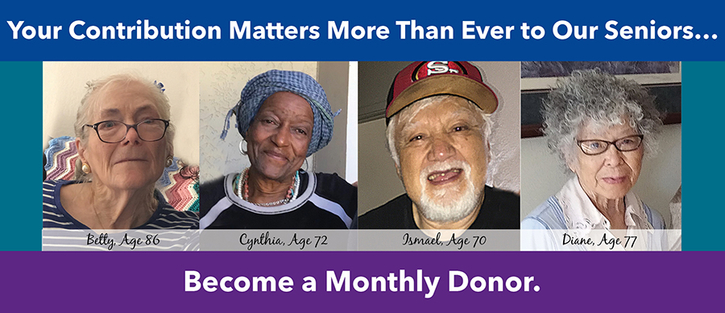 You can have a huge impact on seniors throughout our community!
One in four seniors in Monterey County cannot afford to eat. Many of the seniors we serve are surviving on fixed incomes and social security benefits. Did you know that your donation of $10 will feed one senior, one nutritious meal? How much is it worth to you knowing a senior won't go hungry because of your generous donation? We ask for you to join us in helping these vulnerable seniors by becoming a sustaining donor through Meals on Wheels of the Salinas Valley.
By making a recurring monthly donation, you make a lasting commitment to the delivery of healthy meals to local seniors, allowing them to live independently at home. Becoming a sustaining donor is a great way to help ensure the stability and effectiveness of your local Meals on Wheels program.
It's so easy to become a sustaining donor! Simply sign up online and we will automatically charge your credit card each month. You choose the amount of your monthly gift. When enrolling online, select the "Enroll in the Monthly Giving Program" button and complete the donor information. In addition to saving yourself time, your money goes further as a sustaining donor because it reduces administrative expenses related to mailings and paperwork.
Not only is Meals on Wheels of the Salinas Valley the most effective and caring way to support seniors needing extra help, but it saves us all billions of dollars in Medicaid/Medicare, health and long-term care expenses. In fact, every dollar invested in Meals on Wheels can save up to $50 in Medicaid/Medicare spending. Are you ready to enroll and make a difference in a senior's life?