Salinas Program - Volunteer of the Quarter JUNE 2023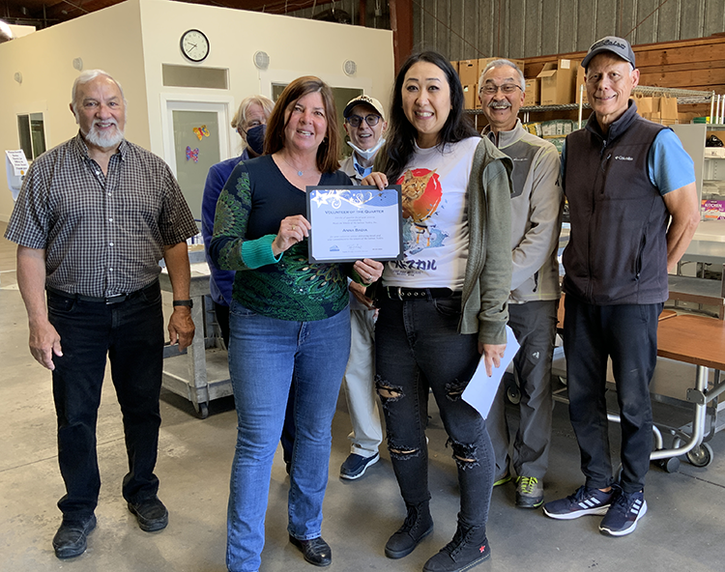 Congratulations, Anna Badia, for being honored as our Volunteer of the Quarter – Salinas Route - delivering meals throughout the city of Salinas. She started volunteering with Meals on Wheels of the Salinas Valley (MOWSV) in May of 2022. Anna decided to volunteer with MOWSV because helping people has always had a profound impact on her own mental health. "I have a passion for helping the elderly and disabled folk because any one of us could be in their shoes. When we are more sympathetic and compassionate with people, I believe our community becomes stronger." She quotes Mahatma Gandhi who said, "A nation's greatness is measured by how it treats its weakest members."
Anna stated that the favorite part of her day at MOWSV is seeing the smiles of the seniors she delivers meals to. She loves bringing positivity and love to her homebound clients. Many of them do not get out much in the day and they enjoy a little conversation from their friendly volunteer during meal delivery time. "If you are interested in becoming a volunteer for an organization" said Anna, "I would suggest coming to Meals on Wheels of the Salinas Valley because they are one of the most well-organized non-profits I have worked with. The MOWSV staff always work well as a team and the volunteers themselves are the reason the organization is so special." Anna shared that she is very excited to receive the Volunteer of the Quarter award. "Rain or shine, I will deliver meals to residents!" stated Anna.
Anna is very busy outside of volunteering with MOWSV. Currently, she is employed as a Restorative Nursing Assistant at Salinas Valley Post Acute in Salinas. "I have worked here for over 2 years helping patients recover their strength and get better so they can go back home," said Anna. "Being an RNA is a leadership position for all the CNAs there and I'm always glad to help my co-workers in a positive way, as much as I can."
Not only is Anna an outstanding and dedicated volunteer with MOWSV, she also volunteers at Dorothy's Place serving breakfast and preparing lunch for the homeless. When she's not volunteering or working, Anna enjoys playing her guitar at home. Her work volunteering goes back years. Anna shared "Throughout my time at San Jose State University, I volunteered planting trees, visiting elementary schools to educate students about sustainability, organizing bike-to-school day and getting involved with the San Jose Bike Party." She also was involved with beach and local creek clean-ups during her years at SJSU. "I was part of the Environmental Club, Women's Studies Club, and the Secular Club. Because of my involvement on campus, I received the President's Award, one of the highest awards at the university," stated Anna. She graduated with 2 degrees - a BA in Philosophy and a BS in Environmental Studies.
Anna has lived in Salinas for 4 ½ years. Before that, she was a resident of Marina for 2 years. "I was pretty much raised in San Jose my whole life except that I was born in Los Angeles," stated Anna. She shared that she is married to a wonderful husband, Michael Badia, who supports everything she does. Michael is employed as a postal worker for the United States Postal Service, Marina branch. Anna said, "I don't have kids but I have 3 mischievous cats that I care for, Izzy, Boo and Scruffles." We are so grateful that Anna chose MOWSV to volunteer her time and energy and congratulate her again on being chosen Volunteer of the Quarter – Salinas Route.