Salinas Program: Volunteer of the Quarter - SEPT2019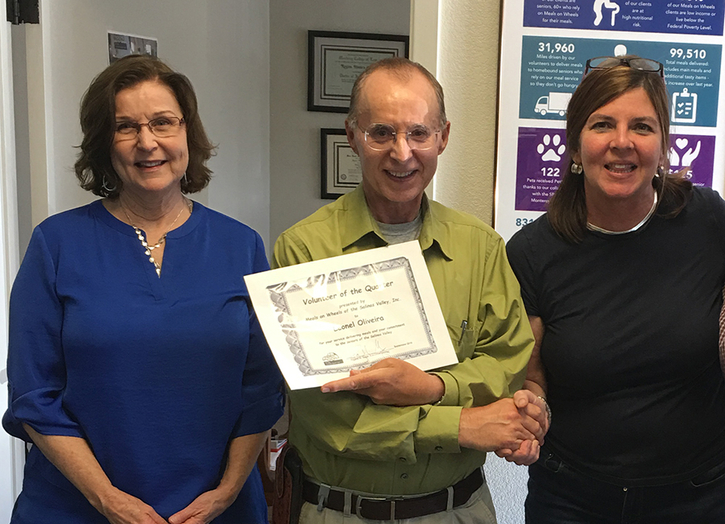 Congratulations Leonel Oliveira, our Volunteer of the Quarter, September 2019! Leonel has been volunteering with Meals on Wheels of the Salinas Valley (MOWSV) since January, 2019. He has been a meal delivery driver, bringing weekly meals to our clients in Salinas and a substitute driver when needed. A few months ago, Leonel was asked to help with our client phone assessments and he didn't hesitate to say yes. We are so grateful for his help on the administrative side of MOWSV. His calm and friendly voice make clients feel comfortable answering our assessment questions. Thank you Leonel for all you do for MOWSV!
Years ago, Leonel moved to Monterey County to be closer to family. He loves this wonderful area and feels it's paradise. With 34 years as a Probation Officer for Monterey County, and previously in Merced County, Leonel recently retired from this career. A graduate of San Francisco State, he earned a Bachelor's in Psychology before starting his career as a Probation Officer (PO). Leonel believes that his career as a PO lends itself to helping people and that is what he enjoys most at Meals on Wheels.
As Leonel neared retirement, he searched groups where he could contribute after retirement. Leonel likes to give to others. He feels for lonely people who are shut-in and don't have family and friends around them for support. He felt that the Meals on Wheels program was a good match for him. "I get more back than what I am able to give to people and that brings me joy," stated Leonel. It touches his heart to bring smiles to the clients he delivers meals to. Quite often clients ask him to sit down and talk with them for a while and Leonel obliges. He said that he leaves their homes with a full heart after spending time having conversations with them. He acknowledges that he may have been the only person they have spoken to that day.
When Leonel isn't dedicating hours to Meals on Wheels, he enjoys many different hobbies. He proclaims that he "pretends to be a handyman around the house and an amateur carpenter." Over the summer, Leonel made a wooden garden bench for his blossoming garden, another area he dabbles in…gardening. His neighbors call him a farmer! He has a particular fondness for orchids and enjoys quite a collection in his home. Leonel sees these activities as his therapy.
Leonel would tell anyone who is contemplating becoming a volunteer with Meals on Wheels of the Salinas Valley to go for it! "This wonderful organization serves the community and you get so much back when you volunteer," said Leonel. We congratulate Leonel as our Volunteer of the Quarter and are so happy that he found us.