MCGives! 2020 Campaign Kick off!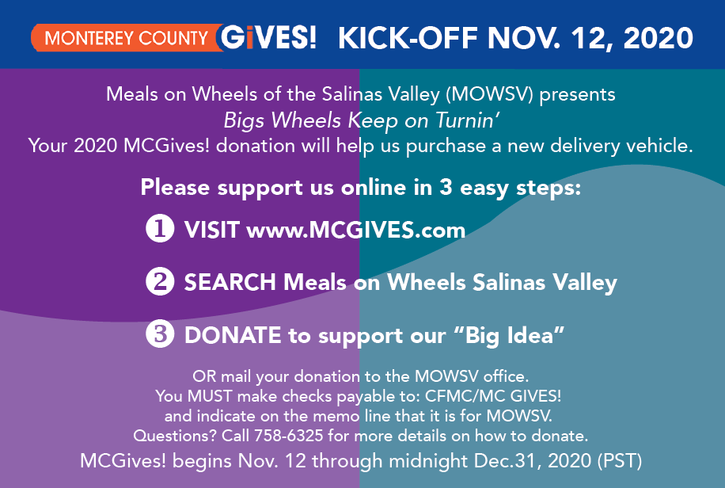 Did you receive your MCGives! 2020 Campaign Kick-off postcard?
Meals on Wheels of the Salinas Valley has been accepted as a recipient in the 2020 Monterey County Gives! campaign – a community-match fundraising program, which runs from November 12 to December 31, 2020. Our Big Idea - "Big Wheels Keep on Turning" is to raise funds for the purchase of a new delivery vehicle. Due to the tremendous increase of clients who need home delivered meals since the COVID-19 pandemic began in the spring, we are in dire need of a new vehicle to help with food pick ups and deliveries.
A collaboration between the Monterey County Weekly, the Monterey Peninsula Foundation and the Community Foundation for Monterey County, MCGives! is a campaign in which local businesses, foundations and individuals contribute to an overall match fund that spurs donations for participating organizations. At the end of the campaign, each nonprofit receives 100% of their donations, along with a prorata match on the first $75,000 raised. More than $27 million has been raised and granted since 2009.
We're asking for your support to continue our mission. Donations accepted beginning November 12. More details to come!