Oscar Mayer Wienermobile Delivers Meals for MOWSV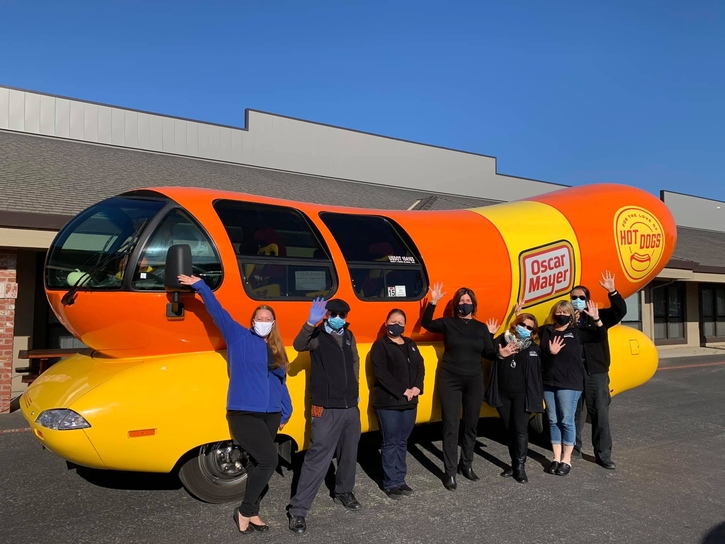 As part of an annual "coast-to-coast wienie roast," and mission to drive miles of smiles, the iconic Oscar Mayer Wienermobile cruised the hot dog highways of Salinas during November. On Thursday, November 12th, the Wienermobile teamed up with Meals on Wheels of the Salinas Valley (MOWSV) to drive miles of smiles to Meals on Wheels recipients by helping to deliver a route.
Meals on Wheels of the Salinas Valley has been delivering meals to homebound seniors, 60 years and older, since 1972. MOWSV believes that good nutrition and independent living go hand in hand. With the help of caring volunteers and generous donors, MOWSV is able to make both possible everyday for those seniors who are homebound. For the past 48 years they have been delivering meals, nurturing hearts and nourishing homebound seniors.
"My partner Saucy Spence and I try to give back to the community in every market we visit. Sometimes that's through Meals on Wheels and other times we team up with homeless shelters to serve a meal. It's really BUNderful to be able to bring a little extra joy to Meals on Wheels recipients, particularly since many of them have been unable to leave their homes for months," Mayochup Molly, Oscar Mayer Hotdogger, said.
"We are thrilled to have the iconic Wienermobile come to town and brighten the day for our homebound seniors," stated Regina Gage, MOWSV Executive Director.
The American icon dates back to 1936, when Oscar Mayer's nephew Carl pitched it as a way to lift the spirits of Americans during the Great Depression. Today, that same mission is carried out by Hotdoggers.
For more information on Meals on Wheels of the Salinas Valley, visit the Website or Facebook. Additional information on the Wienermobile can be found on the brand's Facebook, Twitter, and Instagram pages, or on the free Wienermobile app. You can ketchup with the hotdoggers on their Instagrams: Mayochup Molly and Saucy Spence.