Ukulele Musician Serenades our Clients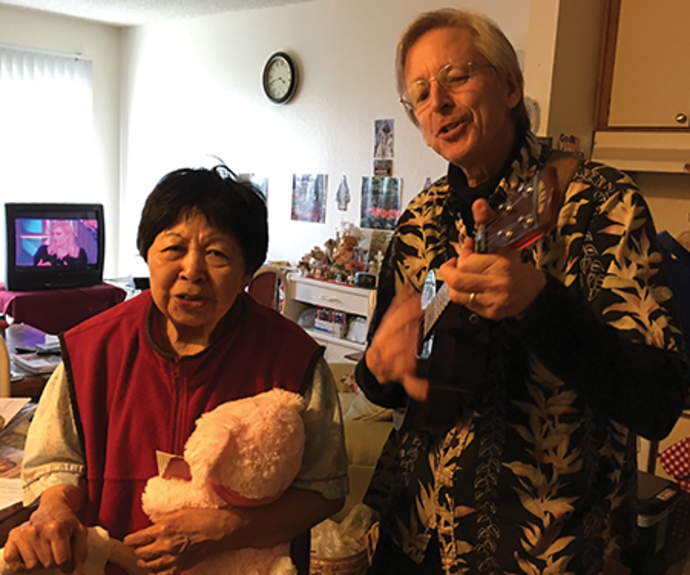 Last fall, we participated in the MCGives! campaign and dreamed a "big idea" to bring art to our homebound seniors. We had no idea how this would come to fruition, but it did! Meals on Wheels of the Salinas Valley was fortunate to have collaborated with The Arts Council for Monterey County to bring musician, Peter Meuse, and his ukulele to entertain some of our homebound clients in a program we call "Art & About." A few lucky clients, on one of our Salinas routes, were serenaded by Peter on Thursday, June 20th, when he accompanied MOWSV volunteer Linda Faro during her delivery of Additional Tasty Items (ATI). All the clients enjoyed a mini concert just for them!
Peter Meuse was born in Nova Scotia and began playing the ukulele when he was 6 years old. He is live-long music educator, multinstrumentalist, and ukulele enthusiast. Currently, Peter teaches music to kindergarten students with his tenor ukulele and he has been teaching classroom music in elementary schools through The Arts Council since 1986.
We are planning to continue this program "Art & About" throughout the summer and possibly longer. Plans are in the works to have a musician or singer accompany another MOWSV volunteer on one of our Salinas routes and allow them to serenade our clients in July (date yet to be determined). We would love to include our North and South County routes in this program as well and are working toward making that happen. Special thanks to the Arts Council for Monterey County for their help in making this "big idea" a reality. Check back on our website for "Art & About" updates.