Rural Program - Volunteer of the Quarter - SEPT2020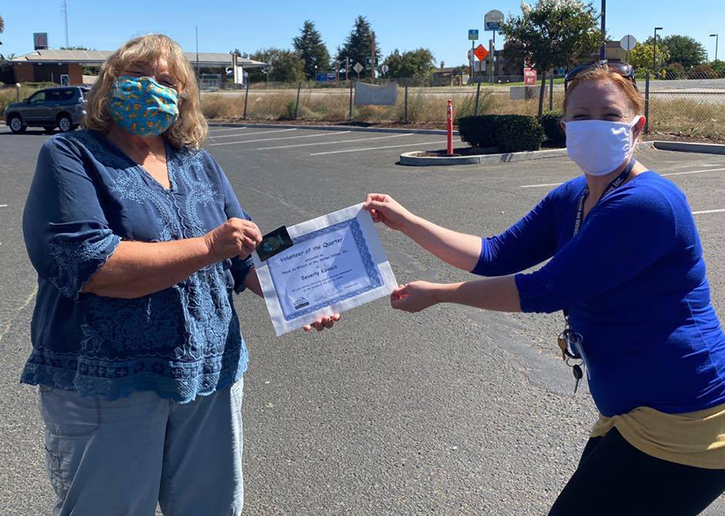 Congratulations, Beverly Kovacs, for being honored as our Volunteer of the Quarter - September 2020. Bev delivers meals in South County for King City and Lockwood. She started volunteering with Meals on Wheels of the Salinas Valley (MOWSV) in March of 2017, about three years ago. Her friend and MOWSV volunteer, Marsha Green, asked Bev to fill in for her on a route and that's how Bev started delivering meals.
Bev's favorite part about volunteering is doing things to help people. She was a social worker, now retired, so she really enjoys being able to deliver nutritious meals and meet different people that are on her route. She points out that for those people who may be interested in becoming a volunteer, that it is something that makes you feel good, knowing that you can help other people. It's rewarding to check-in on homebound seniors in the community to see how they are doing. It feels good to be able to help and Bev encourages others to get involved with Meals on Wheels.
After a long career as a social worker, Bev has been enjoying retirement for 10 years. She enjoyed her job so very much that it was difficult for her to retire. But, after working for the Monterey County Department of Social Services for 38 years, she decided that it was time to stop working and retire.
Not only is Bev an outstanding volunteer for Meals on Wheels but she is involved in several other organizations in her Lockwood community. She is the treasurer for the Nacitone Foundation, an organization trying to develop the museum in Lockwood. She has served on the Board of Directors for the Lockwood Community Center, a lovely community center that was converted from an old school in 1991, for the past 15 or 20 years. Her goal is to keep community activities alive through these challenging times.
Bev was born and raised in Lockwood, lived briefly in Salinas and briefly in King City when she worked for the Department of Social Services but then moved back to Lockwood and has lived there full-time since 1975. Beyond her volunteer activities, Bev has three daughters and they have blessed her with four grandchildren. Spending time and being involved with her grandchildren and their distance learning keeps her very busy.
We thank you Bev, for all the time and energy that you give to Meals on Wheels of the Salinas Valley and the homebound clients in South County that you serve!