Salinas Program: Volunteer of the Quarter DEC 2018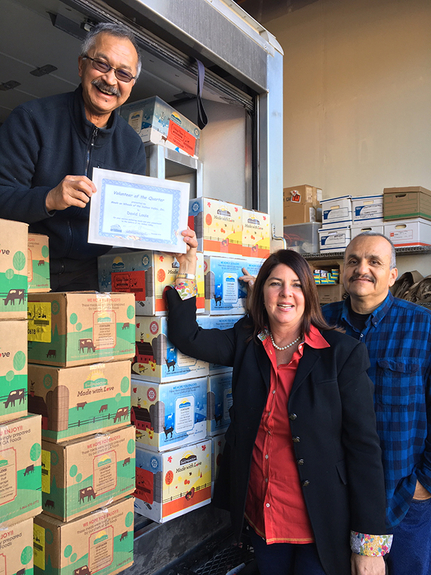 We honor David Louie as the Volunteer of the Quarter for December 2018! Congratulations!
David Louie has been a dedicated and exemplary volunteer for Meals on Wheels of the Salinas Valley (MOWSV) for nearly 3 years. David is pictured here (upper left) with Regina Gage, MOWSV Executive Director (center) and Randy Ponce, Program Coordinator (right) being presented with a Certificate of Appreciation. You can find David 3 days a week at the MOWSV warehouse, loading and unloading meals and organizing those meals for pick up and delivery by numerous volunteers. David made the choice to volunteer at MOWSV because he wanted to pay it forward and give back to the community he was born and raised in 70 years ago and has called Salinas his home for just as long. He and his wife, Terri, have been married since 1975 and raised 2 sons here. Their grown sons have each relocated to Seattle, WA and Walnut Creek, CA.
David shared with us that the most rewarding part of volunteering has been meeting people, including other volunteers, who drive and deliver meals to homebound seniors throughout the Salinas Valley. He believes that the MOWSV meal delivery program is good for the community and always recommends it to those in need. David encourages anyone who may be thinking of volunteering at MOWSV to just do it, it's fun and rewarding!