Salinas Program: Volunteer of the Quarter - DEC2019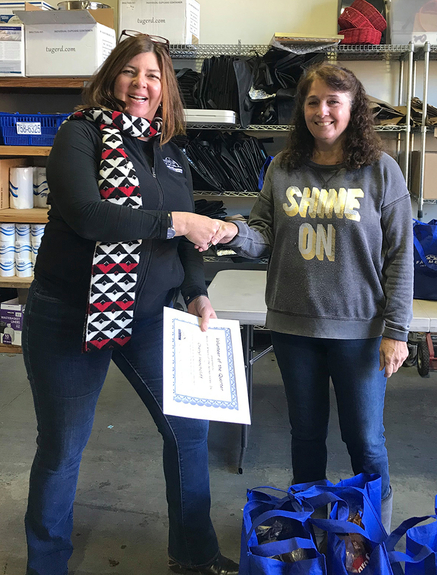 Congratulations Cheryl Henchcliff, our Volunteer of the Quarter, December 2019. Cheryl has been volunteering with Meals on Wheels of the Salinas Valley (MOWSV) since August, 2018. She volunteers as a meal delivery driver, bringing weekly meals to our clients in Salinas. Cheryl is also part of the early morning ATI (Additional Tasty Items) crew – packing bags with fruits and vegetables, bread, peanut butter, oats and any additional items that we get from the Food Bank to be delivered to our clients every Wednesday and Thursday. Cheryl is an early bird and she enjoys getting to the warehouse early, socializing with other volunteers and being physically active packing and carrying the heavy ATI bags for distribution. "The hour or two packing bags in the warehouse is a great workout!" said Cheryl. Thank you, Cheryl, for all you do for MOWSV!
Cheryl was raised in King City and has lived in Salinas for over 30 years. She has family living in King City and Greenfield and visits when she can. "I've been away from King City for a long time and don't know as many people as I used to. I visit my mom who still lives down there," she said. Cheryl loves spending time with family in south county. She has 2 daughters, 2 granddaughters and 4 great-grandchildren (2 boys and 2 girls) who keep her very busy!
Cheryl worked for UPS for 26 years as a dispatcher for the company. Changes within the organization phased out the department she dispatched for and she retired (not by her choice she stated!) in December 2015. She worked the 7am-4pm shift for many years and says she still wakes up early by habit. With time on her hands after retirement, Cheryl started looking into different organizations that she could volunteer with. She contacted Meals on Wheels after seeing a newspaper ad and thought it would be a fun way to spend her time.
When Cheryl isn't volunteering at Meals on Wheels, she goes to Montage Wellness to workout. She said that she used to be a gym rat, working out all the time, and would like to get back into the workout habit. She also loves to bake and cook and try different recipes. She has many cookbooks and tries not to buy more when she and her daughters go to Garage Sales, another of Cheryl's hobbies.
Cheryl would tell anyone who has extra time, wants to meet people and stay busy to become a volunteer with Meals on Wheels of the Salinas Valley. "The clients are so appreciative of the meals we deliver to them. Some don't have anyone and you talk to them for a while and it makes a difference in their day," says Cheryl. We congratulate Cheryl Henchcliff as our Volunteer of the Quarter and are so happy that she chose us as the organization to volunteer her time to.