Salinas Program - Volunteer of the Quarter - DEC2020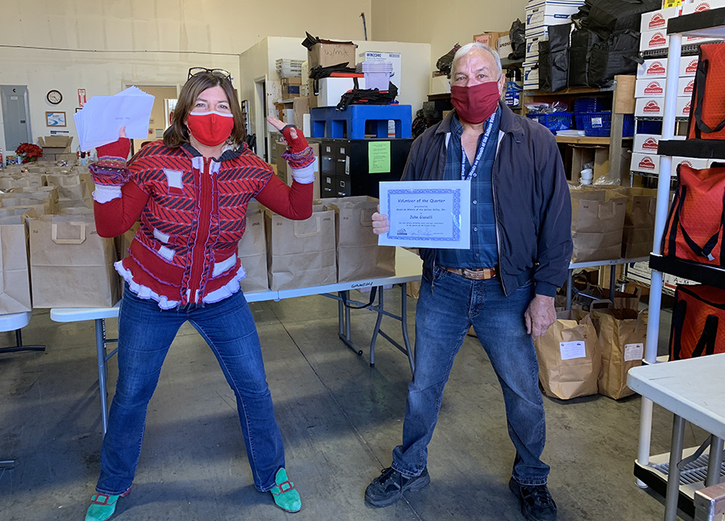 Congratulations, John Gianelli, for being honored as our Volunteer of the Quarter - December 2020. John started volunteering in March of 2019, initially as a substitute driver for North County and then was asked to help with packing meals. Now, John has routes in Salinas and North County and spends his time meal organizing three days every week. And on top of that, John agreed to serve on the board of directors for Meals on Wheels this past July -- he's serving his first three-year term and has brought a renewed energy and kindness to our organization. Around the MOWSV office, John has become our handyman and helps with just about any repair job we ask of him!
When asked what his favorite part about volunteering at Meals on Wheels is, John answered, "As with most things, it is the people that make the difference. What MOWSV provides is more than just nutritious and tasty food. I have found that bringing meals each week to clients often is the only interaction these seniors have on a regular basis." He added that he really enjoys working with the staff, the Board, and all the other volunteers. "We really make a great team," exclaimed John.
Not only is John an awesome volunteer and board member for Meals on Wheels but he is involved in several other organizations in his community. Currently, John serves as the President for "Friends of the Prunedale Library," he volunteers for Active Seniors, Inc. of Salinas, and occasionally helps on special projects for the Monterey County Animal Shelter (now Hitchcock Road Animal Services). He shared that other free time is spent making occasionally great wine with a neighborhood hobby winery and maintaining the "little acre of paradise" he lives on with his wife, Martha Lou.
After retiring in 2014, John found that he had time between house projects to do something more. He knew friends that volunteered for Meals on Wheels around the country and it seemed like a good way to give back. John shared that his career began in Hollywood on the technical side of the movie industry, but his background was largely as a manager in companies designing and building such products as race cars, 3D laser scanners, and mountain bikes.
John spent most of his early life in Texas and in Southern California, where he earned a Bachelor of Arts degree in Psychophysiology from California State University Northridge. "I met my wife at Riverside Raceway where I often competed in road races. We moved to Monterey County in 1988," John shared and "have been married for 38 glorious years." At their home in Prunedale he and Martha Lou have four kitties -- all rescued ferals or strays -- who keep them constantly entertained.
Meals on Wheels of the Salinas Valley and the homebound clients that you serve are so grateful for the time and dedication that you give to volunteerism, John! Congratulations on being awarded Volunteer of the Quarter.