Salinas Program - Volunteer of the Quarter - MAR2020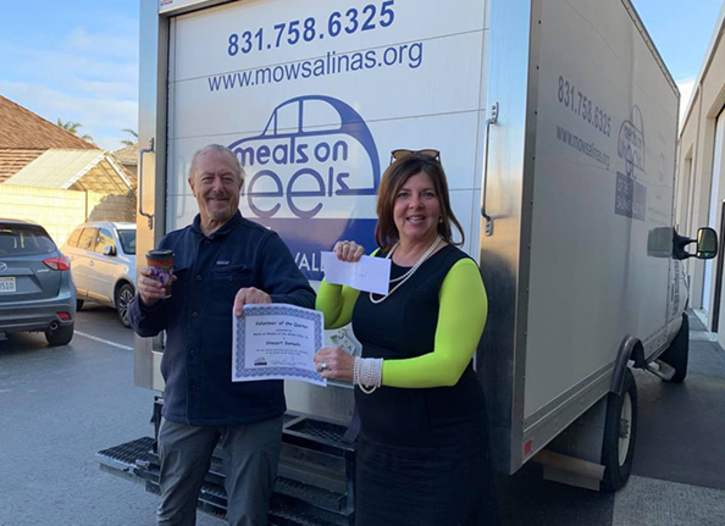 Congratulations Steuart Samuels, our Volunteer of the Quarter, March 2020! Steuart has been volunteering regularly with Meals on Wheels of the Salinas Valley (MOWSV) since August, 2017. He started as a substitute driver picking up food from the Food Bank every Wednesday. This substitute position became a permanent one and Steuart was happy to continue with the pick up and delivery to MOWSV. Not only that, but Steuart has been helpful with many different assignments around the MOWSV office, from restructuring office cubicles to building desks and fixing broken cabinets. We are grateful to you, Steuart, for all you do for MOWSV!
Before volunteering with MOWSV, for over 40 years Steuart was Executive Director of the non-profit organization, St. Andrew's Residential Programs for Youth (S.T.A.R. Programs), located in San Jose. S.T.A.R. Programs cares for wards of the juvenile court system and immigrant children, housing them and helping them learn essential skills to become contributing members of society. Steuart is still a consultant with the organization. "I'm not sitting at home after retirement," says Steuart. "Knowing that I am contributing to those in our community who need help is very fulfilling. It keeps me active."
When Steuart isn't volunteering at Meals on Wheels, he's gardening, taking care of fruit trees and pigs, dogs and cats at his home. He lives in Prunedale with his wife, Regina, and has three grown children (one lives locally, one in Santa Barbara and one in Seattle) and five grandchildren. When not volunteering with MOWSV or caring for animals at home, you might catch Steuart on his sailboat or see him driving around in his classic red VW van.
What's his favorite part of volunteering? "It's an honorable organization and makes me think that in my later years, I may need to rely on others. As long as I'm able, I'll do my part to help those that rely on Meals on Wheels. I enjoy the volunteers and staff that I have contact with," says Steuart. He paraphrases the words of 60's radical, Black Panther, Eldridge Cleaver, "If you're not part of the solution, you are part of the problem."
We congratulate Steuart Samuels as our Volunteer of the Quarter. He shared with us that he is honored to be the recipient of the Volunteer of the Quarter award.