Salinas Program - Volunteer of the Quarter - MAR2021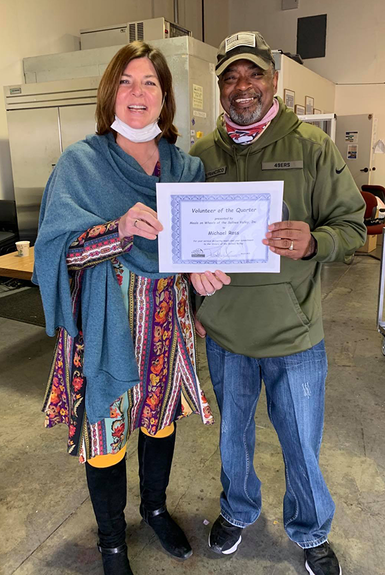 Congratulations Michael Ross, our Volunteer of the Quarter, March 2021. Michael has been volunteering with Meals on Wheels of the Salinas Valley (MOWSV) since May, 2016. He decided to become a volunteer after retiring from a career as a Correctional Lieutenant with the Department of Corrections for 27 years. Michael also retired as a Major in the National Guard serving for 26 years. With time on his hands, he looked to Meals on Wheels to help him give back to the community with an organization of good people doing work for good people -- homebound seniors.
Michael wears many volunteer hats at our organization! He first began as a meal delivery driver, bringing weekly meals to our clients in Salinas. As our program meals changed to a local source, we needed help loading meals from the Meals on Wheels of the Monterey Peninsula into our truck and then unloading the hundreds of meals into our warehouse freezer. Michael stepped up to be a part of the inventory loading team. He continues to deliver his routes, unloads our meal inventory and rides with staff to pick up additional food whether it be from the Food Bank or another food source. Michael is our "go to" guy and always has a smile on his face! Most recently, Michael and another volunteer, graced the cover of the April 2021 issue of Health Matters, a publication from The Monterey Herald. Thank you, Michael, for all you continue to do for MOWSV!
When Michael isn't volunteering at Meals on Wheels, he drives for Uber and Lyft which keeps him moving. He also has a personal goal of getting a minimum of 10,000 steps in each and every day. Michael shared that he has a wonderful wife of 47 years, Granada Ross. Together they have two beautiful daughters and three awesome grandkids, ages 19, 15 and 3. Michael and his wife, Granada, have lived in Salinas from 1976-1980. After graduating from Hartnell College in 1980, they transferred to CSU Sacramento and lived there for many years. When Granada was transferred for work, they returned to Salinas in 1999 and have been living in the community since.
Michael loves being productive in his life and volunteering helps him do this. He had also been a volunteer with the Cancer Society for a few years, mostly repairing items and performing chores as needed. Michael would tell anyone who has time after retirement, "if you want to serve good people in the community who need help and you prioritize giving back to the community, then you should volunteer with Meals on Wheels of the Salinas Valley." We congratulate Michael Ross as our Volunteer of the Quarter and are so happy that he chose to become a Meals on Wheels volunteer.