Salinas Program - Volunteer Team of the Quarter - JUN2022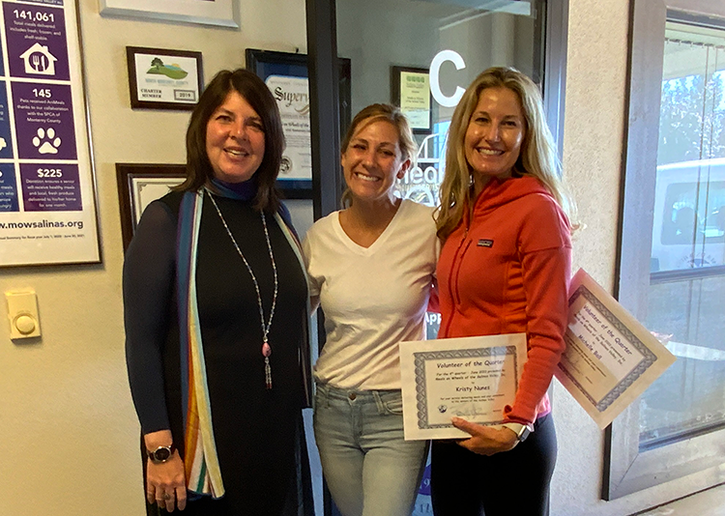 Congratulations to this volunteer team that delivers meals to seniors: Michelle Ball and Kristy Nunes our Volunteers of the Quarter – 4th quarter 2022. Michelle and Kristy began volunteering with MOWSV in September 2019. They were invited to ride along with Jane Day (former long-time and beloved volunteer with MOWSV) on her weekly route. They enjoyed the experience so much that both decided to become volunteers so they could deliver meals every Thursday.
Both Michele and Kristy agree that the best part of volunteering with Meals on Wheels are the clients! Each client that they deliver to brings them so much joy and laughter. Michelle and Kristy always look forward to seeing their clients every week for meal deliveries and conversation.
Many of MOWSV volunteers find time to volunteer after they retire. That was not the case for the dynamic duo of Michelle and Kristy…neither is retired! Both are mothers of 3 school-aged children and busy with their hectic schedules. While their kids are attending school, Michelle and Kristy make the time every Thursday to deliver meals to our homebound clients.
Both Michelle and Kristy were born and raised in Salinas. After each finished college, they returned to the Salinas area to raise families of their own in this wonderful community.
Not only are these amazing women dedicated volunteers at MOWSV but they are involved with two additional organizations. Michelle and Kristy are co-directors of "They Are One: local" a non-profit that serves vulnerable children both locally and in Haiti. And, both are active members, with their daughters, of National Charity League – Monterey Bay chapter. The group's mission is to foster mother-daughter relationships in a philanthropic organization committed to community service, leadership development, and cultural experiences. NCL has three components: Philanthropic Work, Cultural Activities, and Social Events. After a few moments of thoughtful contemplation, and a little laughter, Michell and Kristy listed their hobbies as watching their children play sports (including being Uber drivers taking the kids to practices & games), hiking, water sports and book club for some adult discussion.
The staff and board of directors at MOWSV appreciate the time and energy that this dynamic duo shares with our clients every Thursday during their meal deliveries. Thank you, Michelle and Kristy!