Salinas Program - Volunteers of the Quarter - SEPT 2021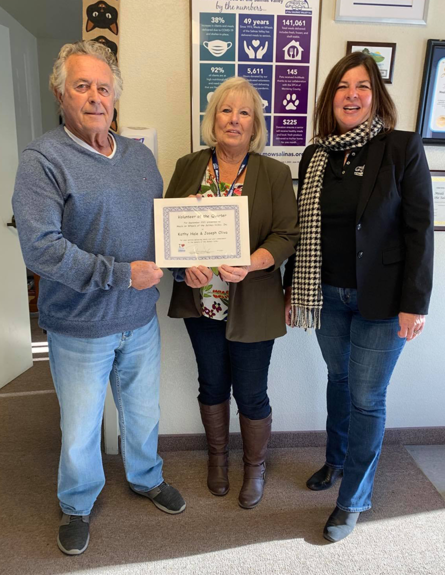 Congratulations, Joseph Oliva and Kathleen Hale (pictured here l-r with Executive Director, Regina Gage) our Volunteers of the Quarter, September 2021. This duo has been volunteering with Meals on Wheels of the Salinas Valley (MOWSV) since April of 2020, right after the Covid-19 pandemic began, when we desperately needed additional volunteers. Both Kathy and Joseph have been in Public Service & Safety most all of their lives. When looking for volunteer opportunities, it seemed only logical to both, since they have the free time, that they should be helping others and giving back to the community. Kathy thought of Meals on Wheels because of an earlier experience volunteering in the 1970's for a brief time.
This dynamic duo enjoys volunteering at Meals on Wheels and finds that delivering much needed meals to homebound seniors is fun! They both have experience dealing with a wide variety of people. Kathy and Joseph love chatting with the clients who are always happy to see them. "Sometimes you are the only one they have seen in days," says Kathy. "It is a pleasant, positive experience, for the client as well as us. I would tell others it is a great experience." They shared that while providing a much needed service and helping others, as volunteers, "you reap the benefit of feeling good about yourself," they added.
Both Kathy and Joseph are retired after life-long careers in Public Safety. "But," they say, "we are still working, if that makes sense." Joseph is a retired Vietnam Veteran. After his military career, he worked with and retired from the Monterey Regional Fire Department where he volunteered for 20 years. Most recently, Joseph retired from the Santa Lucia Preserve where he was employed for over 20 years. His field of service was in Waste Water Treatment. And if that's not enough, Joseph's current job is with CCM&E in the hospitality industry.
Kathy retired from a 27 year law enforcement career, starting her career in 1983 as a Deputy with the Monterey County Sheriff's Department. In 1987 Kathy changed departments and worked with the City of Pacific Grove for 20+ years, starting as a Police Officer in the patrol division. Her next step was a a DARE Instructor, and Kathy started the City's first ever Mounted Patrol. She was promoted to Corporal and became a training officer. In 2006, she was promoted to Sergeant and became the first female Police Sergeant in the 100 years history of the City. Since retiring Kathy has started her own business in the Legal Field. She accommodates the Court System providing Service of Process in Monterey County, also known as: Serving Legal Documents.
Joseph was born in New York. He came to Monterey, California in 1965 to attend the Defense Language Institute were he studied and became fluent in Vietnamese (he speaks 5 languages). During the Vietnam War he was placed in a Special Op Division. After the war ended, Joseph returned to settle in Monterey and it has been his home since.
Kathy is a life-long resident of Monterey County born and raised in Salinas. Together they have a blended family that includes 3 daughters, 6 grandchildren, one German Shepard and 3 horses.
In their spare time Kathy and Joseph maintain a 12-acre ranch. They enjoy riding horses, motorcycles and jet skis, going swimming, hiking and camping. For the last 11 years they have gone on at least one major trip per year, traveling to a spectacular destination somewhere in the world. So far, they have visited Egypt, the Mediterranean, Turkey, Croatia, Europe, Spain, Italy and South East Asia. Kathy and Joseph look forward to when it will be safe to travel again so they can plan more adventures.