Are you interested in a position with our team at Meals on Wheels of the Salinas Valley, Inc.? We provide home-delivered meals to clients throughout the Salinas Valley and so much more.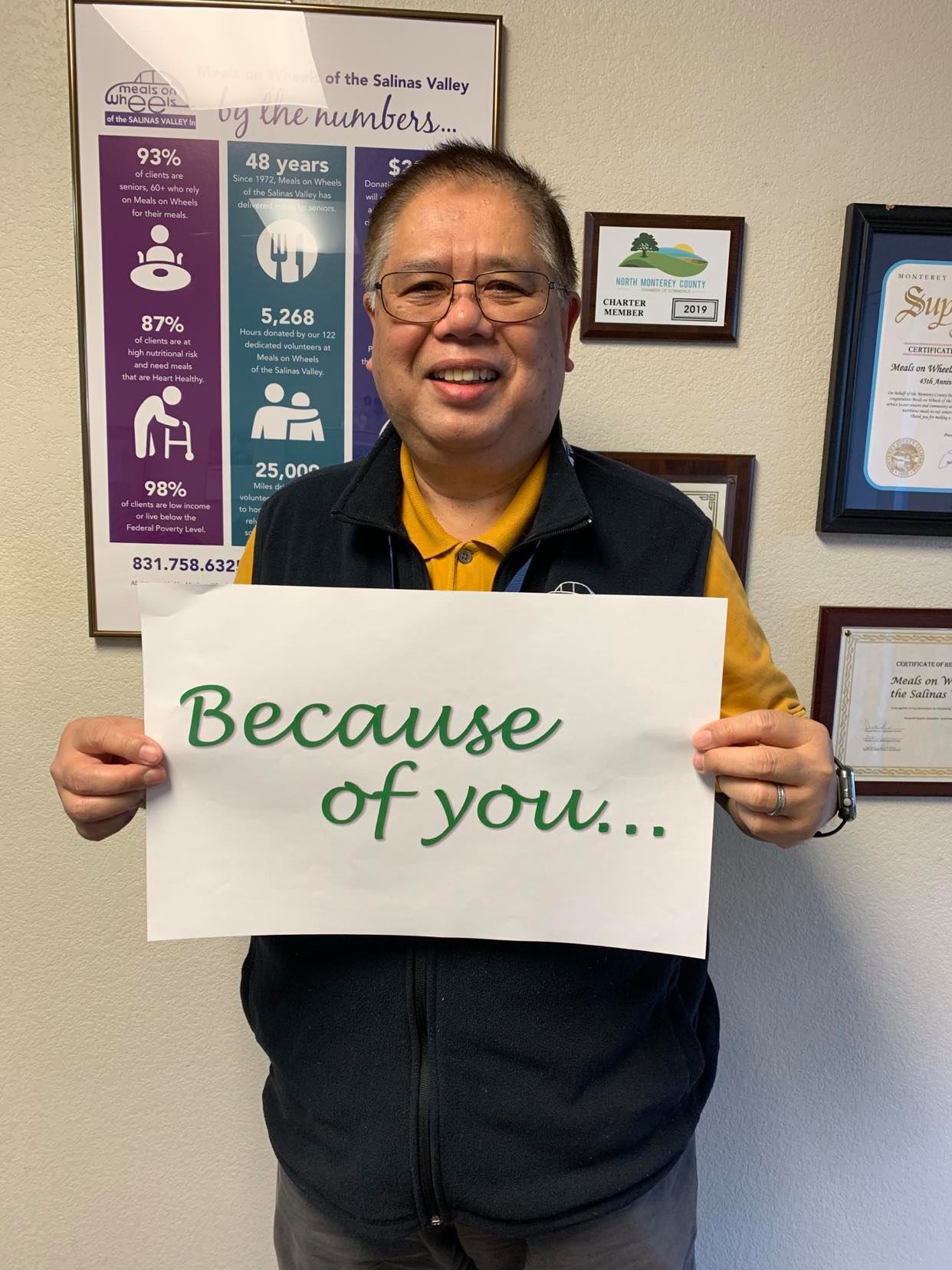 JOB TITLE: PROGRAM SUPPORT
The person in this position works 32 hours a week and may also be assigned to work on weekends, evenings or holidays. Assignment of work is the responsibility of the Program Manager.
Objective: To be responsible for delivery to clients in the geographic area we currently serve, to coordinate and supervise the routes and activities of delivery volunteers.
Accountability: To the Program Manager
Responsibilities:
Accept inquiries from prospective clients; complete client intake forms, enter and maintain all pertinent client data in computer database. Keep client files current and updated as needed.

Assist Program Manager by maintaining client and volunteer information on computer databases.

Conduct client intake assessments and quarterly reassessments. Make any needed referrals to the Program Manager.

Monitor temperatures of frozen meals from cold storage facility to clients. Assure that meals stored onsite are kept frozen until delivery.

Recommend to the Program Manager any needed improvements in the meal service process and program.

Prepare daily delivery schedule and accurate route sheets for both rural and Salinas clients

Maintain all information needed for meal delivery.

Deliver meals to clients and volunteers in South County on Wednesdays.

Assist Program Manager to recruit new clients by distributing brochures and other materials, making presentations, staffing information table at community events etc.

Work with the Program Manager to recruit, train, assign, evaluate, and recognize program volunteers.

Maintain a list of volunteers, their route assignments and other capabilities they may be able to contribute to the program.

Post volunteer delivery hours regularly so they are available for Program Manager at end of month.

Attend training, seminars, classes, and other meetings assigned and/or approved by the Program Manager.

Assure that MOWSV delivery van is kept clean and in good working condition.

Pick up food at Food Bank as needed

Other related duties as assigned.
Qualifications:
B.A or B.S degree and/or qualifying experience in health or human service delivery.

Proficiency using a PC and Microsoft Windows XP, including Word, Access, and Excel. Must have excellent word-processing and database skills.

Possession of a reliable vehicle, a valid California driver's license and automobile insurance.

Must understand and speak Spanish fluently.
Personal Qualities:
Possess a professional appearance and demeanor with an ability to work independently; to communicate effectively verbally and in writing; and to handle confidential information. Ability and desire to work and communicate with all groups within a multi-cultural community; and a genuine interest in, understanding of and concern for the elderly; ability to work with volunteers and co-workers in a transparent and collaborative manner.

Ability to handle multiple tasks in a fast-paced environment.

Must be detail-oriented and organized.
Conditions of Work:
Non-exempt position. Full time, 32 hours a week.

May require assignment on weekends, evenings or Holidays.
Physical and sensory requirements:
The physical and sensory abilities required for this position include:
Physical effort such as lifting and carrying boxes of frozen meals, produce boxes or outreach materials weighing up to 25 pounds.

Repetitive arm, hand, finger, and wrist motion; coordinated, skillful movements of fingers, hands and arms to operate a variety of office equipment such as a personal computer, typewriter, and calculator.

See well enough; hear and speak sufficiently, and physical dexterity to function in a typical office environment.

Ability to reach, stoop and bend to file forms and put supplies away, etc.

Mobility and dexterity to operate a motor vehicle to transport self, others or meals or materials.

Mobility and dexterity to operate the MOWSV delivery van, including loading and unloading meals from the cargo area.
Salary and Benefits:
Medical, vision, life insurance, retirement 403(b) as specified in the Personnel Policies.

Hourly rate: $25.00-$28.00 DOE
Interested candidates are asked to submit a cover letter AND résumé to Regina Gage, Executive Director, at [email protected]. or Laurie Bend, Marketing/Operations Director at [email protected] No phone calls please.